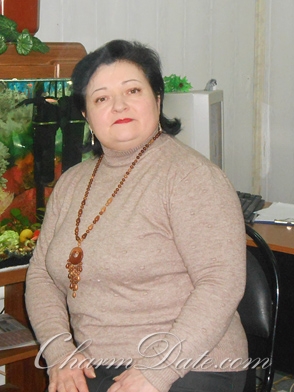 I'm offline now, you can:
Send Mail
Call Me Now

Favorite Me

Successfully favorited!
Marina (Profile ID: C343772) Verified Profile
Hello, my name is Marina. I'm 54 years old and live in Oryol, Russia. I'm looking for someone aged of more than 53. In my spare time, I enjoy Playing Cards/Chess, Sports/Workout, Reading, etc.
Send Mail
My Detailed Profile
Year of Birth:

1963

Zodiac:

Pisces

Weight:

172 lbs (78kg)

Height:

4'11" (150cm)

Smokes:

Nonsmoker

Drinks:

Never

English:

Learning

Religion:

Christian

Education:

College

Have Children:

Yes

Profession:

Consultant

Relationship Status:

Widowed

About myself and my ideal match:

I am ready to contribute into relationships, and I want our relationships with my future man to move forward!I want to act and to do everything to be happy.
I am mild, honest, I will never let my closest person feel any discomfort - what's else needed for happiness ? Just to be there , just a sweet potion on beloved heart... how can it be different ?
Relationship is not a challenge , relationship is a feeling of connection , and endless attraction to each other.
I need feelings and passion in relationships! I have so much of this inside of me...That I'm ready to explode everything on my man! Ha ha. ;)
If you want all of this. This new and real life. Amazing feelings and chance to have a better future, then what are we waiting for?
My intentions is like my passion, so alive and hot! And let's not miss this in vain.
Please find me online and invite me to have a chat, or you can write me a letter, I will reply you timely
Match Q&A
Marina has answered 0 questions, 0 of them you have both answered. Find out what you are in common now.

"Do I match you? Tell me"
Send Mail
Don't miss this opportunity to chat with more online members! Go now!
Notice to competitors:
All information obtained from this website, including members' addresses, photos, materials, and text can only be used by our clients for private non-commercial use. Use of this information for any commercial purposes without our prior written permission is completely prohibited and will result in prosecution to the fullest extent under the law.